PCO-T-04
LYCRA TLSO ORTHOSIS WITH BACK RIGID CORSET AND CROTCH STRAP
Our pediatric TLSO PCO-T-04 increases stabilization and body awareness in case of neurological disorders.
HOW DOES IT WORK?
Made of soft PowerElastic™ and rigid back corset made of MEMORYcast™, provides deep, core compression and normalizes muscles tone.
PowerElastic™ is a very thin and very flexible fabric for the production of delicate and sophisticated orthopedic products. It consists of spandex, the action of which is responsible for proper compression and fitting of the product to the patient's body, and reduces muscle vibrations generated during increased physical exertion. It is responsible for maintaining the proper climate next to the skin and effective drainage of sweat, and its structure guarantees velvety softness to the touch. PowerElastic™ is skin-friendly fabric and has the Oeko-Tex Standard 100 certificate.
Back corset is made of AeroSpace Ⅱ™ and stabilizes the spine in frontal and sagittal plane. It is our innovative fabric which may be shaped according to kid's needs. The foam reduces the pressure of bone prominences. The vest provides essential compression and improves proprioceptive sensation and also stabilizes and supports the paraspinal muscles. Elasticity and deep pressure improves body coordination and limits the involuntary movements.
AeroSpace II™ is an innovative new generation raw material. It is a distance elastic 3D knitted fabric consisting of two layers of facings and an interlacing that creates the appropriate thickness of the raw material and has relieving properties. The knitwear is made of the highest quality polyester yarn - guaranteeing high mechanical strength and spandex ensuring its proper flexibility. AeroSpace II™ has an external self-gripping layer what makes it easy to adjust each product to individual patient's needs. This material is characterized by a very low weight, high flexibility and a very large openwork structure, allowing for very easy drainage of sweat from the body and bringing fresh air to the skin. Products made of this raw material are neutral to the secured joint, do not heat or cool it, but ensure its proper compression and fit and reduce muscle vibrations generated during physical exertion. Its thickness and 3D structure perfectly relieves the orthopedic splints, stays or other elements mounted on the product and guarantees velvety softness to the touch.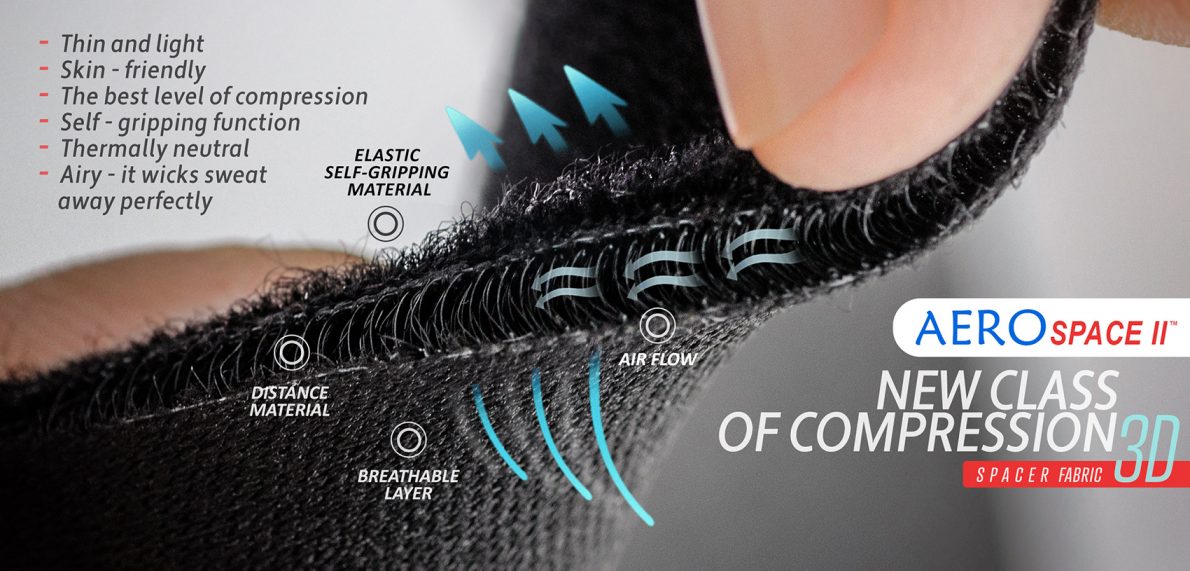 This solution provides perfect spinal immobilization in case of Scheuermann's disease or scoliosis. The corset is malleable so it maintains the spine in the required therapuetical position.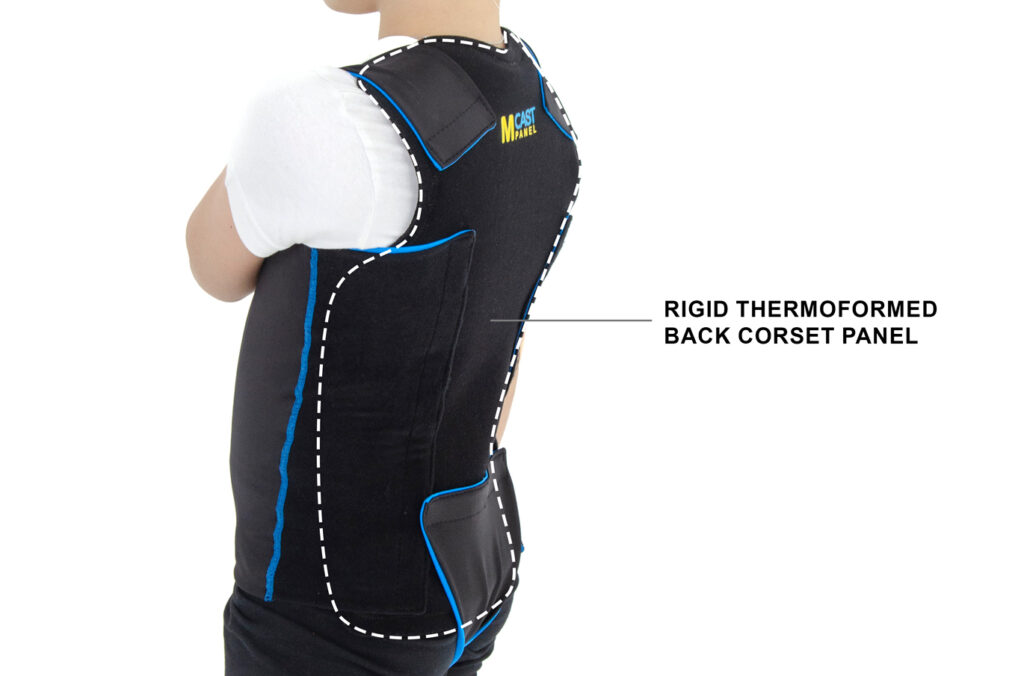 Our PCO-T-04 dynamic suite with thermoformed back corset should be used as an additional to occupational and physical therapy activity. This solution will reduce involuntary movements, normalize muscle balance and improve therapeutic effects.
It is believed that this type of Postural Compression Orthoses PCO® and deep compression provides better sensory information to the brain, increases proprioception and child's knowledge about its own body. Due to this fact, dynamic PCO® orthoses are the best solution for improving treatment in case of abnormal tone and decreasing spasticity.
BENEFITS
improves body balance
increases core stability
increases passive and active ROM
normalizes muscle tone
decreases spasticity
decreases involuntary movements
improves breathing
INDICATIONS
• cerebral palsy (CP)
• scoliosis
• Scheuermann's disease
• spina bifida
• Down Syndrome
• sensory integration (SI)
• high tone
• spasticity
• low tone
• atetosis
• ataxia
• dyskinesia
• dystonia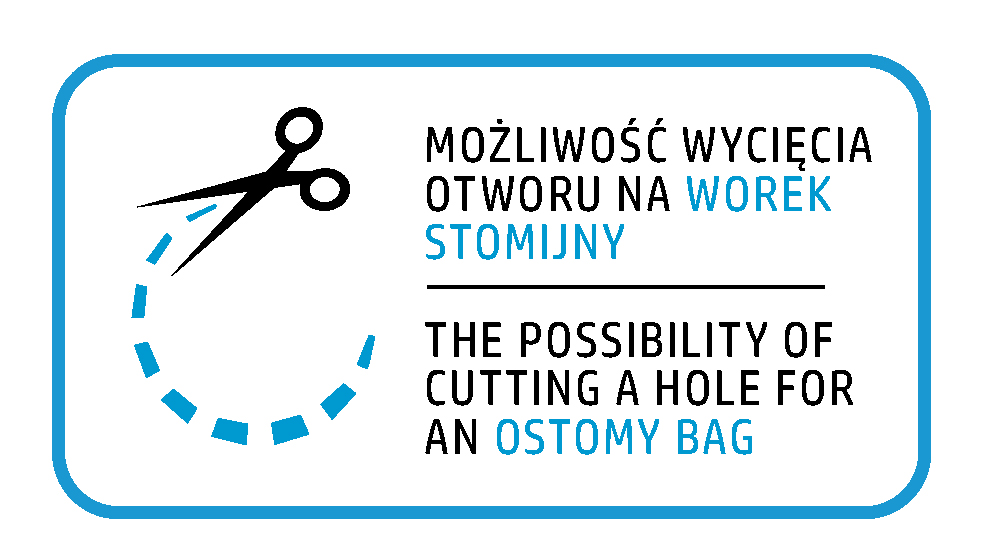 Available sizes
Size
Torso circumference (A)
Trochanter greater to under-arm length (B)
How to measure
1
40 – 50 cm
17 – 21 cm
1 MAXI
40 – 50 cm
21 – 27 cm
2
48 – 65 cm
21 – 27 cm
2 MAXI
48 – 65 cm
27 – 31 cm
3
60 – 70 cm
27 – 31 cm
4
60 – 70 cm
31 – 35 cm
4 MAXI
60 – 70 cm
35 – 40 cm
5
68 – 80 cm
35 – 40 cm
Total height of the product:
| Size | Back | Side |
| --- | --- | --- |
| 1 | 27 cm | 19 cm |
| 1 MAXI | 31 cm | 22 cm |
| 2 | 31 cm | 22 cm |
| 2 MAXI | 34 cm | 26 cm |
| 3 | 36 cm | 26 cm |
| 4 | 39 cm | 30 cm |
| 4 MAXI | 44 cm | 34 cm |
| 5 | 44 cm | 34 cm |
Downloads
ON OUR WEBSITE WE PRESENT MEDICAL DEVICES..
USE THEM ACCORDING TO THE INSTRUCTIONS FOR USE OR LABEL.